IAFF Headlines
Current news directly from IAFF locals, councils, and state/province associations in the US and Canada.
Members of Honor Guard escort retiree to final resting place
03/31/15 - IAFF Local 772
March 31, 2015 Members of our Honor Guard gave Firefighter Honors today for retired Bangor Fire member, James McDonald. Members were asked by the family to be the pallbearers. We also presented the family with a flag folded from the casket, provided him with the final tolls on the bell and Amazing Grace on the bagpipes.
Union Lobby Day
03/31/15 - IAFF Somerville Fire Local 76
Hockey Schedule
03/31/15 - IAFF Somerville Fire Local 76
Structure Fire at , 1818 Evergreen Park Drive
03/31/15 - Olympia Fire Fighters
OFD Annual Softball Tourney
03/31/15 - Olympia Fire Fighters
L51 Support opportunity
03/31/15 - IAFF Local 51
Brothers and Sisters, Sorry for this late notice but we were just asked by our nursing brothers and sisters if we can come out and support them on their time of need. We need to show our support to other Labor unions and show that we are strong!. Here is the information we got a few minutes ago. Fwd: I'm passing this info on in support of the Nursing staff at Las Palmas Hospital.
Trade Request
03/31/15 - Denver Firefighters Local 858
Brother Brian King recently injured his right knee while skiing and will be having ACL reconstruction surgery. Brian is on E-11 A shift (Monday KD) and is looking for donated trades from April 6th - Aug 6th. If you would like to donate a trade to Brian King, contact him at Station 11 (303-698-4925) or on his cell phone 303-886-3928.
Busy Month For NLFD
03/31/15 - New London Fire Fighters
It's been a busy month for the members of the NLFD. 3/18- 73 Riverview Ave 2nd Alarm value-135,900 3/19- 101 Blinman St (Garage Fire) value-127,900 3/24- 175 Hawthorne Drive (2 rescued) value-over 1 million 3/25- 191 Jefferson Ave.
JOBS: Adrian Firefighter
03/31/15 - Michigan Professional Fire Fighters Union
The Adrian Fire Department is seeking candidates for the position of firefighter.
Sterling Heights Fire Department welcomes six new firefighters
03/31/15 - Michigan Professional Fire Fighters Union
"If you're going to learn, learn from the best." That was the message Sterling Heights Fire Chief Chris Martin delivered March 17 prior to swearing in six individuals as firefighters with the Sterling Heights Fire Department.
Notice of Bus Cancellation
03/31/15 - Detroit Fire Fighters Association
UNFORTUNATELY, DUE TO THE LACK OF PARTICIPATION, THE UNION/FUND SPONSORED BUS TRANSPORTATION TO CINCINNATI, OHIO FOR THE FUNERAL OF FALLEN BROTHER DARYL GORDON HAS BEEN CANCELLED. Anyone wishing to attend the funeral on their own, the Funeral Service will be held on Wednesday, April 1, 2015 at 10:00 a.m. at St. Peter in Chains Cathedral, 325 W. 8th Street, Cincinnati, Ohio 45202.
Lateral FF/Paramedic Hiring
03/30/15 - Cunningham Fire Fighters
Job Announcement Lateral Firefighter/Paramedic Closing Deadline: April 20, 2015 Cunningham Fire Protection District is currently accepting applications for the position of Firefighter/ Paramedic.
April 7, 2015 Primary Election Endorsements
03/30/15 - IAFF Local 42
LODD Death Notice - Captain Rick Winship
03/30/15 - Missouri State Council of Fire Fighters
Funeral Services for Captain Rick Winship, member of Professional Fire Fighters of Independence, MO Local 781, who passed away on March 26, 2015 from an agressive cancer.  Visitation: Wednesday, April 1, 2015 from 5:00 PM till 8:00 PM at Speaks Suburban Chapel, located at 18020 E. 39th Street, Independence, MO 64055.
Your Next General Membership Meeting
03/30/15 - IAFF Local 2928
.Wednesday April 1st at 09:00 AM
Lt. Gene Dube Retires After 32 Years
03/30/15 - Holyoke Firefighters IAFF Local 1693
The Holyoke Firefighters Local 1693 would like to congratulate Lt. Gene Dube on his recent retirement. Lt. Dube started his career as a Holyoke Firefighter on February 28, 1983 and worked his last day on March 12, 2015.
Oregon Firefighters Unite Against Cancer
03/30/15 - Oregon State Fire Fighters Council
Unite Against Cancer March 25, 2015 - the Oregon State Fire Fighters Council (OSFFC) joined OHSU Knight Cancer Institute researcher Lisa Coussens, Ph.D., her colleagues and representatives from Unite for the Knight to celebrate a gift of $21,000 to the Knight Cancer Challenge.
Funeral Service for Fallen Cincinnati Brother Daryl Gordon
03/30/15 - Detroit Fire Fighters Association
Daryl Gordon  Local Number: L0048 City, State: Cincinnati, OH The Detroit Fire Fighters Association and the Detroit Firemen's Fund Association are teaming up to secure roundtrip bus transportation for any members interested in attending the Funeral Service for Cincinnati, OH (IAFF Local 48) Driver/Operator Daryl E.
City Outlook Email Changes
03/30/15 - IAFF Local 21

The City has made changes to the email system that requires a new URL location.  To access follow the instructions below. 1. Launch Outlook web at,  https://www.outlook.com/stpaul.gov      *if prompted for credentials:                a. for the USERNAME, enter your email address (e.g.
2015 Firefighter Awards Banquet
03/30/15 - Crowley Professional FireFighters Association
CPFFA's first annual Firefighter Awards Banquet was a success. Congratulations to the following personnel for receiving department awards: Officer of the Year - Lt.
MDA GOLF TOURNAMENT
03/30/15 - Denton Fire Fighters Association
26th Annual Denton Fire Fighter MDA Golf Classic THURSDAY, APRIL 23, 2015 THE GOLF CLUB AT CHAMPIONS CIRCLE ACROSS FROM TEXAS MOTOR SPEEDWAY Golfers Package $125 Includes round of golf, green fees & cart, goody bag, food, beverages and T-Shirt. BONUS: Free round of golf to every player! Enter as a team or individually.
Grand Opening of the New Burke Mountain Fire Hall
03/28/15 - International Association of Firefighters Local 1782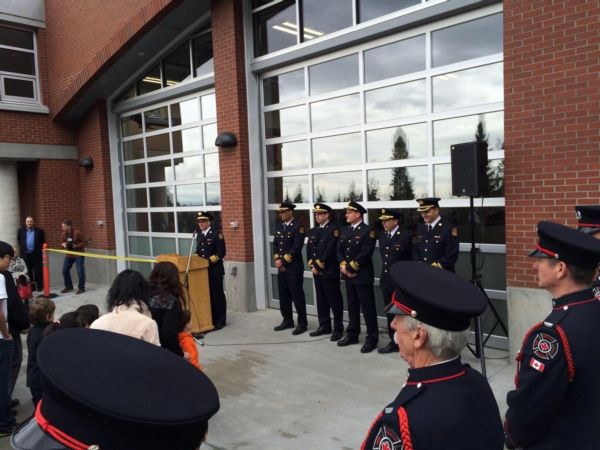 On March 28, 2015, the City of Coquitlam officially opened the new Burke Mountain Firehall. The over 17,000 square foot, energy-efficient facility is built to 1.5 times post disaster standards and will serve the growing Burke Mountain community now and into the future. http://www.coquitlam.
2015 Primary Election Endorsements
03/28/15 - Fort Wayne Professional Firefighters
March 28th UPDATE
03/28/15 - IAFF Local 1014
A lot happening right now! We realize you have been inundated with informative e-mails lately; hopefully you are not overwhelmed. Your Executive Board is handling many issues right now and we want to make sure you are well informed. The last two weeks have been exceptionally busy.
Bossier City L-1051 - 5th Annual Vernon Gobert MDA Golf Tournament
03/28/15 - PFFA
Covington Firefighters Associations 3rd Annual Golf Open
03/28/15 - PFFA
Annual Golf Outing
03/27/15 - IAFF Local 2493
Our annual golf outing is back on! If you are interested in putting together a foursome, or if your business would like to sponsor a whole; here are the details. Date: June 19th, 2015 Course: Paxon Hollow Golf Club Time: 8:00AM Shotgun Start Cost: $130 to golf / $50 for a Hole sponsorship.
2015 CFD RETIREE REUNION
03/27/15 - Cambridge Fire Fighters
Denver Fire Fighters Burn Foundation Payday Raffle
03/27/15 - Denver Firefighters Local 858
The winner for today's payday raffle is Dave Frank,District 7 A-Shift . Congratulations to Dave! Registration is now open for the 28th Annual Burn Camp Golf Tournament to be played May 15th, 2015 at Fox Hollow Golf Course. Go to www.denverburnfoundation.org for more details and registration. Thanks to everyone for your continued support.
Benefit for One of Our Own
03/27/15 - IAFF Local 4405
For all you fishermen and fisherwomen out there, there will be a fishing tournament on May 9th in Del Rio. The proceeds will go to help one of our members affected with Cancer. The 2015 recipient is Aaron (Hooter) Hughes. He has been fighting metastic squamous cell carcinoma cancer for the past year of his life.
Reminder: MFR Training Modules Available on this Site!
03/27/15 - Detroit Fire Fighters Association
Attention All Active DFFA Members! REMINDER: DFFA OFFERS NEW TRAINING TO HELP WITH MFR In an effort to help members successfully pass the MFR program, the DFFA has partnered with Kaplan University to assist in that process. We are offering online MFR training modules through our web site.
Bridgeport Sound Tigers – 1st Responders Day
03/26/15 - UPFFA
Bridgeport Sound Tigers Host 3rd Annual 1st Responders Day!! Sunday, April 19th -3pm (Doors Open @ 2:00PM) FLYER ATTACHED.
March 26, 2015:
03/26/15 - UPFFA
Thinking about going back to school? Kaplan University can help you shorten your path to a degree.
Hero's Hockey Game and After Party
03/26/15 - CFFA
Please come out to Time Warner Cable Arena this Sunday March 29th at 1pm for the annual Fire and Medic Vs CMPD And Mecklenburg County Sherriff hockey game following the Checkers Game. Come on out and support a great cause!!! Also, after the game come on down to the Palmer Building for the after party with Beverages from SUgar Creek Brewing and Pizza from Hawthornes.
Lincoln Park brings in 3 new firefighters to fill recent vacancies
03/26/15 - Michigan Professional Fire Fighters Union
According to interim Fire Chief Al Dyer, the three men are filling recent vacancies in the department after several firefighters left for new job opportunities this year. A fourth addition is in the works now, he added, which will bring the department to a staff of 18, still down from 36 in 2008.
Cities seek SAFER grants to more add firefighters
03/26/15 - Michigan Professional Fire Fighters Union
Westland and Wayne are each seeking additional firefighters to be funded through a federal grant.
Arsonist Denied Parole
03/26/15 - Sacramento Area Fire Fighters
We are proud to announce that on Wednesday, March 11, 2015, the California State Parole Board voted to DENY parole for Arsonist Mario Catanio. In l98l, Mr. Catanio was paid to set fire to a North Hollywood restaurant as part of an insurance fraud scheme. In the course of fighting that fire, eight Los Angeles City Firefighters were injured and one, Thomas Taylor, lost his life.
Schedule for Insurance Changes Workshops
03/26/15 - IAFF Somerville Fire Local 76
A Year Ago Today
03/26/15 - Boston Fire Fighters
Dear Brothers & Sisters: A year ago today, the Boston Fire Department suffered the loss of Lieutenant Edward Walsh/Engine Company 33 and Firefighter Michael Kennedy/Ladder Company 15 at Box 9-1579. Their sacrifice, although tragic, represented the highest traditions of the Boston Fire Department. As we continue to mourn their loss, we do so as a family.
IAFF Service Pins
03/25/15 - IAFF Local 2819
This May, we will be ordering IAFF Service Pins for those members interested in having one. Referencing our Local's Union Longevity Pin policy, pins will be awarded starting at the ten year mark and every five years to follow. So how does one make their request? Simply email Brother Thornton and provide your total number of years as a member of the IAFF.
Louie Wright Campaign
03/25/15 - IAFF Local 42
Brothers and Sisters: We will be walking neighborhoods in the 1st District on Saturday, March 28th and Saturday, April 3rd.  These are the last chances for us to advocate for OUR Candidate.  We will meet at Johnny's Back Yard, located at 1802 Buchanan, North Kansas City, MO at 10:00 AM.
New Recruits Practice Pit-Crew CPR
03/25/15 - Belmont Firefighters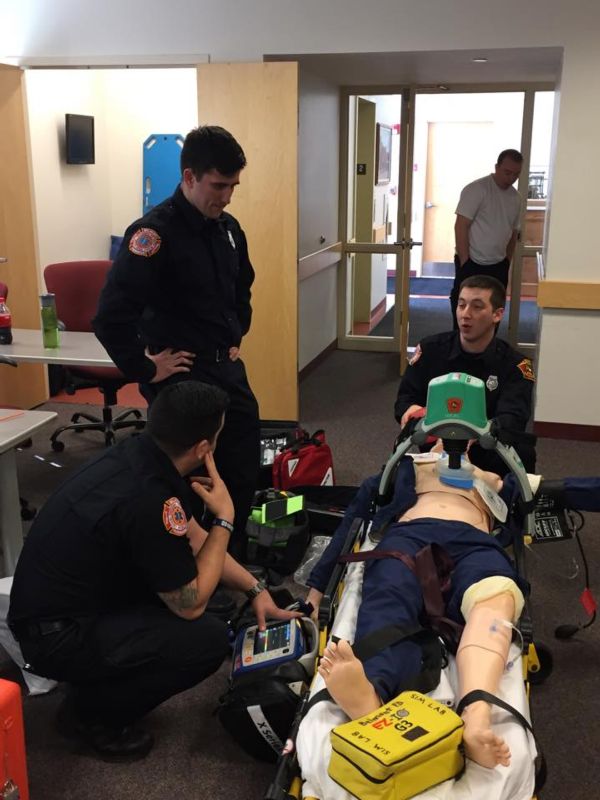 Belmont Fire Department's FFOPs Keane, Butler and Gerrard practice their first pit crew appraoch to cardiac arrest victims, many more senarios to come.
FIRE Act Grant Application Period Closes April 17, 2015
03/25/15 - UPFFA
FIRE Act Grant Application Period Closes April 17, 2015 The Fiscal Year 2014 Assistance to Firefighters (FIRE Act) grant program application period ends April 17, 2015, at 5:00 p.m. Eastern Daylight Time (EDT).
Wilkes-Barre Fire Golf Tournament
03/25/15 - Pennsylvania Professional Fire Fighters Association
Wilkes-Barre Fire Department Athletic Association Golf Tournament Dear Friend, The Wilkes-Barre Fire Department Athletic Association will be sponsoring our 26th annual charity golf tournament on Sunday, May 17th, at Wilkes-Barre Municipal Golf Course.
Huge Statement By Federal Unions On Your Behalf
03/25/15 - IAFF Local F283
This is my first attepmt at posting something and emailing it to all members. Let me know if it doesn't work correctly for you.
2014 Honor Guard Annual Report
03/25/15 - Boston Fire Fighters
In 2014 we had an extremely busy and difficult year for our organization. We lost 5 of our brothers and most importantly Senior Fire Alarm Operator Dennis Sullivan. A devoted part of what made the Honor Guard very successful for his decades of dedicated service.
Gift of Laughs, A Stand-up Comedy Fundraiser for the Toy Program
03/25/15 - Toy Program
Headlines Provided By:
Profirefighter.com - IAFF Website Design, IAFF Website Hosting, 100% Union Made in the USA.
GrievTrac.com - Online Grievance Tracking Software, 100% Union Made in the USA.
UnionActive.com - Website Content Management System with Powerful Communication Tools for Union Website's, 100% Union Made in the USA.
IAFFLocals.com - Complete list of IAFF locals and websites plus featured content from IAFF locals around the US and Canada.
IAFFWebsiteDesign.com - IAFF Web Design, Specifically for IAFF Local Website's, 100% Union Made in the USA.